The Final Beto for America Newsletter
Team Beto: first of all, thank you. This campaign has always been about all of you - no matter if you were with Beto during the Senate race or heard of him for the first time this year. No matter if you've voted in every single election or never cast a ballot before in your life. No matter if your family has been here for generations or if you came to this country yesterday. "No me importa," as Beto says. You are what made this campaign special and inspired each of us at Beto for America every day.
In our closing issue of Writing No One Off, we saw it fitting to make this issue not about one candidate, one person, or one week of the campaign. Instead, this issue is about all of you - how your hard work, kind thoughts and belief in a candidate who spoke honestly and boldly about the challenges ahead of us made Team Beto what it is.
But before we get into our final edition of the Beto for America newsletter, sign up to join a supporter call with Beto tonight at 8:30pm ET/6:30pm MT. Click here to RSVP.
📬 Writing...no one off 📬
Our campaign has always been about all of you. So for our final issue, we're giving just a glimpse of how your voices, thoughts and words were at the heart of this campaign and were what got us through some of the toughest days on and off the trail. Yep, you guessed it - a mailbag edition for our final issue! Let's get into it:
Beto for America letter wall at campaign HQ in El Paso
"Thank you for taking time out of your busy schedule to meet with our group. The individuals we serve often feel like they don't have a voice. I can't thank you enough for helping them have a voice."
"We need a leader who will bring the best out in all of us, and in this country as a whole. This is why I support you, and why I hope this letter serves as encouragement from just a regular person, that what you are doing and saying matters, even if it gets hard."
"I've included a photo of my son...He is the motivation for my support."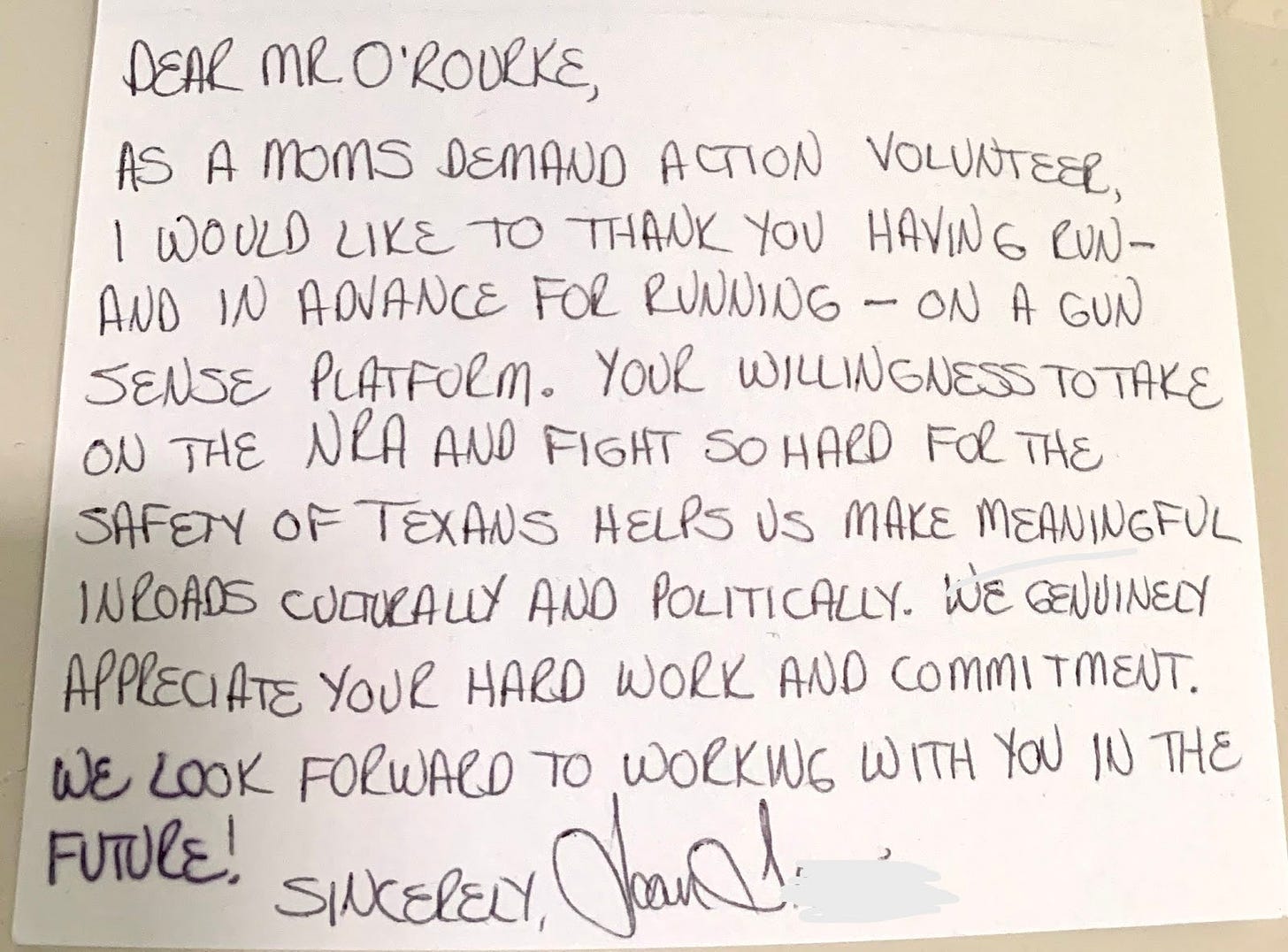 "Your willingness to take on the NRA and fight so hard for the safety of Texans helps us make meaningful inroads culturally and politically. We genuinely appreciate your hard work and commitment."
"Dear Mr. O'Rourke: My name is Gia, I am in 7th grade...I would like to say that I love what you do."
"All Texas should be so proud!"
"Beto, thank you for committing to non-binary gender markers a few weeks ago."
"I hope this helps a little bit. I am for Beto! Good luck!"
"We are heartened by your plan to reach net-zero emissions by 2050."
"Thank you for what you are doing for our country! For the love, the respect, the listening ear, the well thought out and intelligent responses and ideas to make our world a thriving, hopeful caring place."
"Team - our thoughts are with you and the entire El Paso community. Thank you for what you're doing for the families affected and the entire city."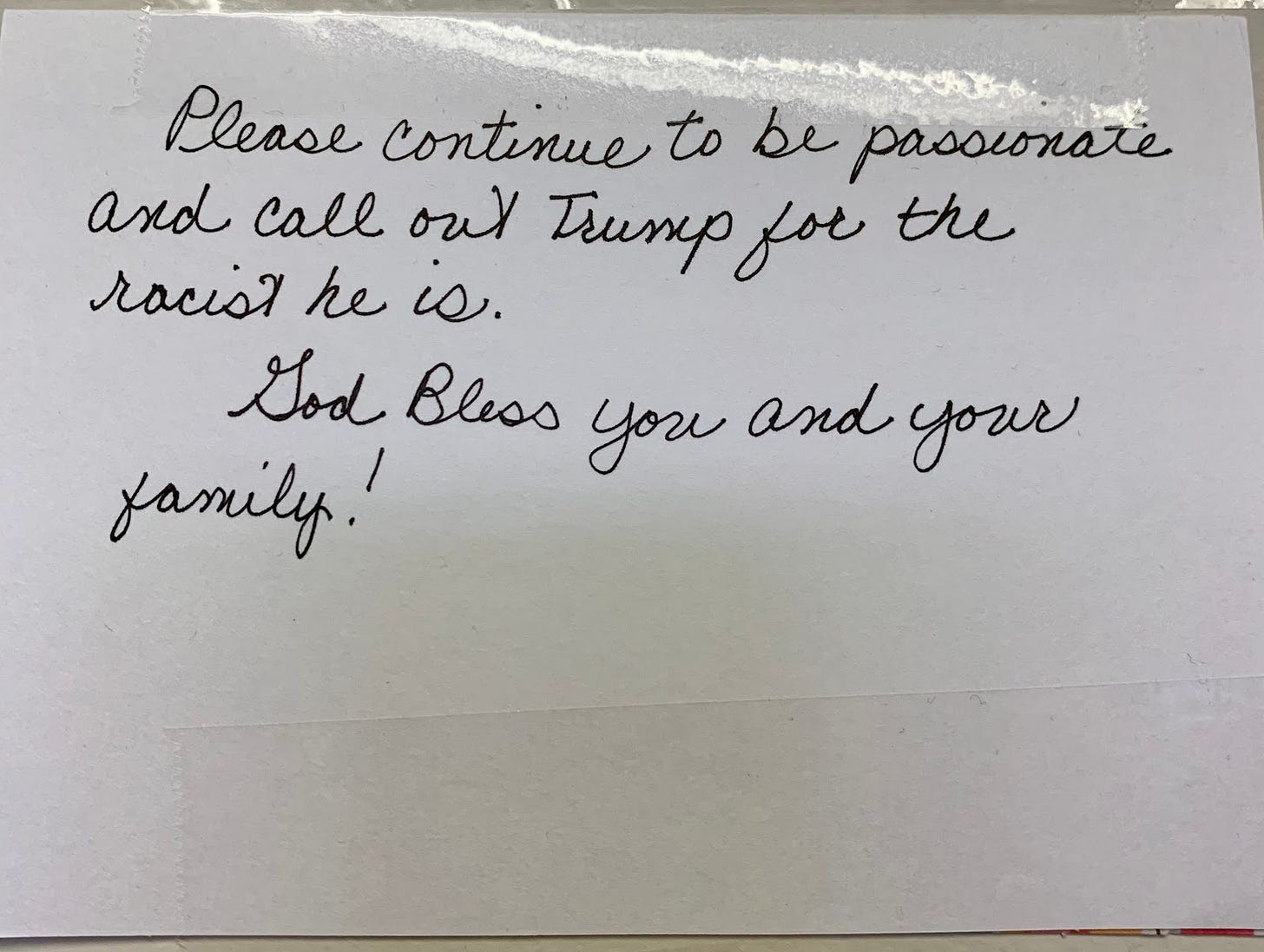 "Please continue to be passionate and call out Trump for the racist he is."
"I admire your vitality and spirit. Don't stop serving America."
Over the course of this campaign, we've gotten hundreds of notes like those, not to mention your emails, tweets, DMs and selfie videos. Too many to count. From all of us at Beto for America - thank you for believing in Beto and for believing in us. Thank you for standing with the El Paso community when tragedy struck. And thank you for supporting a candidate who truly changed the conversation when it comes to ending gun violence, confronting hate and injustices across America, and for running a campaign that refused to write anyone off.
Click here to share this newsletter, or share your own Team Beto story on your social media. And don't forget to RSVP for a call with Beto tonight.
- The Beto for America team